ksebnet.com Process to Pay Online Electricity Bill Pyment in kerala
Kerala State Electricity Board (KSEB) consumers can now pay their electricity bill within ten days after the billing date. There will be the last date for paying electricity bills for every consumers are same and there will be number of consumers pay their electricity bill on last date. And the result is standing in such a long queues at the billing counter on that particular day. 
There are various states in India who provide the online facility to pay such bills. Now Kerala govt has also introduced the online facility for electricity bill payment for their consumers. Through this service there will be lot of consumers feel relaxed. But for large number of Low Tension (LT) consumers are availed the online payment of Electricity bills in Kerala after 2 years. 
The online KSEB bill payment for the Low Tension (LT) consumers were officially launched by Kerala Chief Minister Oommen Chandy and State Electricity Minister Mr. Aryadan Mohammed on 23rd April 2013.

Kerala Online Electricity bill payment:

Now each and every consumer can pay their Electricity bill via online very easily by just using kseb web portal which is : www.kseb.in.  One can pay the Electricity bill via online in just two days after the spot billing date. And the online payment of KSEB Bills should be made 2 days before the Disconnection date. 
Before going for the online  KSEB online bill payment you are suggested to keep your latest Electricity Bill next to you. While paying the bill you should know your Electrical section code, Consumer number and latest bill number for starting KSEB bill online payment. You can see these details on your latest bill, which we have shown below: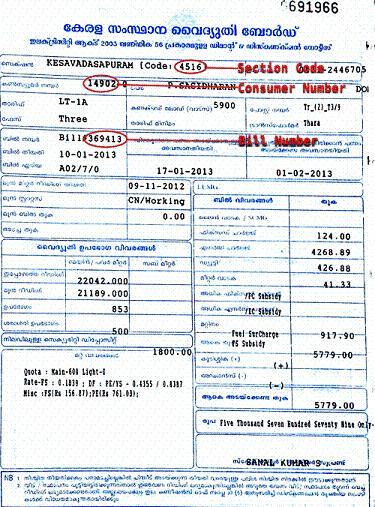 Process to download latest KSEB Bill:

If you lost or damaged your electricity bill then in that case you have to produce a duplicate bill. And this duplicate bill can be obtained fromthe kerala official website http://kseb.in  and here you can download your electricity bill whether you want recent or previous , you can easily download it.It is done by clicking on "View LT bill" tab. And for this you need to know your Electrical section code / section name and Consumer number for downloading your latest electricity bill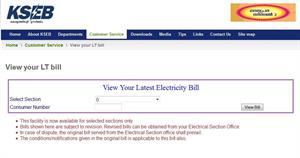 Here your latest Electricity bill / KSEB Bill is now ready with, now you proceed the step by step online payment process of KSEB bill.
Process to pay KSEB bill online:
First you have to ppen the online payment gateway by visiting the web portal http://pg.kseb.in/ui/qpay.php  or http://kseb.in and then click on "Quick pay" option for the payment of bill and then select your Electrical section, now you can see the window which is given below:

Firstly you need to enter your Consumer Number, Latest Bill number, your valid email id and active mobile number, then click on "Proceed to Pay Bill" button.
In the case of the Central Server Sections, there are number of Pending Regular Energy Bills and the total amount due will be shown. For other sections, the last Regular Energy Bill will be shown.
Please select the payment mode  – Net Banking, Credit Card or Debit Card, etc.
Then the total bill amount which is to be paid along with Surcharge applicable (if any) and applicable transaction charges will be shown on your display. The transaction charges will be vary with the mode of payments. The different transaction charges of different payment modes are given below, and you need to select the cheapest and easiest method. 

There will be no service / transaction charges is applicable while using Direct Net Banking service of South Indian Bank, Federal Bank and Canara Bank customers for the online payment of KSEB bill online payment.
Now click on Confirm Payment option.
Finally, a confirmation intimation window along with the final amount which is to paid will be shown, you are required to Click "Make Payment". The online KSEB bill payment through the Net banking, Credit Card or Debit Card use the payment gateway site which offers secure payment facility.
After that the consumer will be directed to the Payment Gateway Site. Kindly make a secure payment.
Once your online electricity payment is completed, the transaction details will be displayed on your screen. You are suggested to take printout copy of the same for future reference. Your online payment for KSEB bill is now completed, details will also send through a message on your given email id and mobile numbers.
In case of any technical or some other issues occurs during the online payment and the amount is debited from bank account but the transaction details are not generated online, either KSEB will generate transaction details within 48 hours or refund the debit amount to the Bank.
Transaction charges for online KSEB bill payment in Kerala:
Net banking – Rs. 3.20 + Service Tax Rs.0.40 = Rs. 3.60
Debit Card – 0.70% of bill amount + Service Tax 0.08% = 0.78% of bill amount
Credit Card – 0.90% of bill amount + Service Tax 0.11% = 1.01% of bill amount
Direct Net Banking for South Indian Bank / Canara Bank / Federal Bank account holders – No transaction charges applicable.

If there is any issues occurs during online payment of KSEB bills then in that case you may contact to KSEB
email id: cccepaysupport@ksebnet.com
Phone: 0471-2555544